Last Call: 'Youth of the Year' Tickets
We still have a limited number of tickets remaining for our Youth of the Year celebration on Feb. 22. This is one of the Club's biggest, and most inspiring, events of the year.
This is a celebration of all that's great about the youth of today. Youth of the Year recognizes student members who exemplify the virtues of good character, academic excellence, community service and strong leadership.
In accordance with safety guidelines, Youth of the Year will be held outdoors under a tent on Tuesday, Feb. 22 at Club Pelican Bay, 707 Gulf Park Drive in Naples. The cocktail reception begins at 5:30 p.m. and the program starts promptly at 6:30 p.m.
Tickets are $750 per person and include cocktails, dinner and entertainment. A highlight of Youth of the Year is hearing stories from teens about the challenges they have overcome and their future aspirations and goals. Guests always leave feeling more confident about the next generation of community and business leaders.
Our keynote speaker is 2011 National Youth of the Year Award winner Mona Dixon, who went from being a homeless teenager to a college graduate serving on a U.S. Presidential Committee.
Proceeds from Youth of the Year help support scholarships that enable children and teens to participate in after-school and summer programs regardless of their family's financial situation.
Paint the Town Blue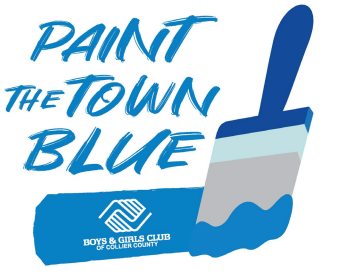 Feeling blue? We certainly hope so!
Get ready to show your support for the Boys & Girls Club of Collier County for our annual Paint the Town Blue campaign. The goal is to raise awareness for our innovative, quality programs that are designed to empower youth to excel in school and lead healthy lives.
Here's how local businesses and community partners can help:
Feb. 14-18: Display a Paint the Town Blue decal in your window or on your door.
Feb. 18: "Paint" your space blue by sprinkling blue confetti, serving blue drinks or using blue napkins, hanging blue lanterns or wearing blue clothing. Then, when customers ask what's the deal with all the blue, you can let them all about the Boys & Girls Club.
To register your business or organization and receive a Paint the Town Blue decal, just call (239) 325-1700 or stop by the Nichols Campus in Naples (7500 Davis Blvd.) or Bolch Campus in Immokalee (1155 Roberts Ave. West).
Silver Anniversary
Did you know the Boys & Girls Club of Collier County is celebrating its 25th anniversary in 2022?
The Club traces its origin to 1991, when a group of concerned residents began discussing the need for safe, impactful after-school program for girls in Collier County. Soon after, the program was chartered by Girls Incorporated and leased two rooms at the Golden Gate Community Center. Initially, it served 30 to 40 girls from 5 to 9 years old.
In 1997, program leaders cited a desire to offer boys a similar opportunity, joining Boys & Girls Club of America to become the Boys & Girls Club of Collier County. Just one year later, the Club was serving more than 100 members daily and leadership launched a capital campaign to purchase land and build a permanent home in Naples, which ultimately would become the Nichols Campus. By 2012, Club membership had risen to 2,000 at the Nichols Campus and three outreach centers. Then in 2016, the Club opened its Bolch Campus in Immokalee.
Today, the Boys & Girls Club annually serves more than 3,000 children and teens, ages 6 to 18, through clubs and after-school programs.
Cheers to our silver anniversary and all the supporters who have shared our vision along the way!