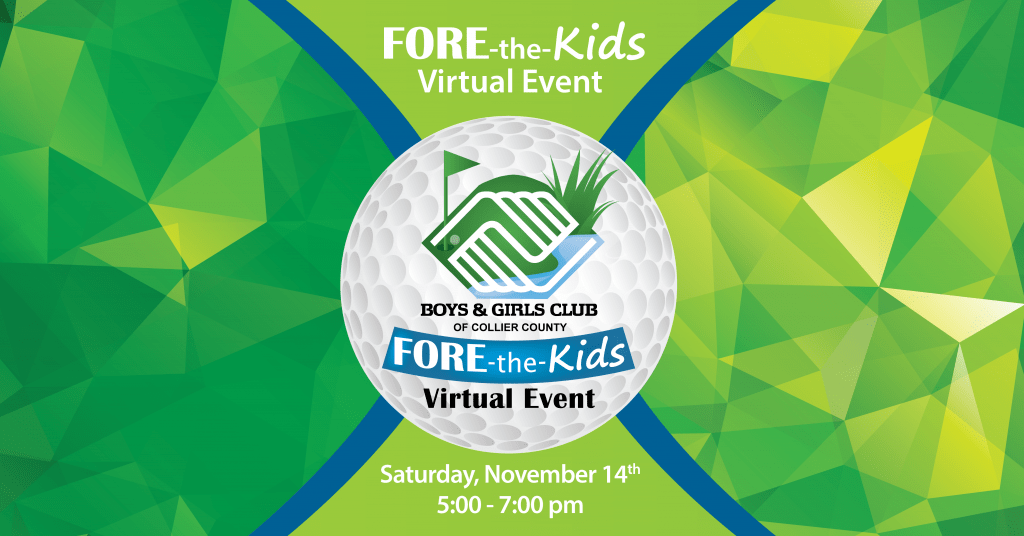 FORE-the-Kids Virtual Event
It's all "FORE" The Kids!
Saturday, November 14, 2020 | 5:00 – 7:00pm
Due to the COVID-19 pandemic and out of our concern for everyone's health, we have made the difficult decision to not host an in-person golf event this year.
However, our FORE-the-Kids Virtual Event promises to be a fun, interactive opportunity to support the Boys & Girls Club of Collier County in a new way!
---
3 EASY WAYS TO PARTICIPATE
Support the Club
Now through November 14
The Club needs your support now, more than ever, as we ensure our children and families have what they need through these uncertain times by doing Whatever It Takes… No Matter What.
Please support the Club during these challenging times. Every dollar counts.
Silent Auction
OPEN November 12 – November 16 @ 12noon
As in the past, there will be exciting items to bid on! Stay tuned for more details.
Virtual Event: Zoom Party & Live Auction
November 14 | 5:00 – 7:00pm
Guests will log into a Zoom call and participate in the live-streamed, interactive show. The Live Auction will allow for real-time competitive online bidding. Host a small watch party at your home or attend solo, whatever you feel most comfortable doing… this party promises to be a Zoom call like no other!
---
More Ways To Join In The Fun!
Host at Zoom "Watch Party"!
We encourage you to host a Zoom Watch Party by inviting your close friends to join you at your home and enjoy all this amazing Virtual Event has to offer together.
To host a Zoom Watch Party, simply contact us at RSVP@bgccc.com or 239-325-1716 to let us know that you are organizing a party.
Then, invite your friends and ask them to register via the registration link. The online registration form will allow your guests to indicate the Zoom Watch Party they are attending.
Submit A Picture of Yourself Golfing "FORE-the-Kids"!
If you have plans to hit the links anytime before November 14th, we invite you to celebrate the Boys & Girls Club of Collier County while out on the golf course.
Snap a few pictures of yourself playing your own "FORE-the-Kids" round and send them to us so that we can feature you during the Virtual Event on November 14th!
To participate, email your pictures to RSVP@bgccc.com!
---
THANK YOU TO OUR SPONSORS

Christine & Terry Flynn
Jerry F. Nichols, Brown & Brown of Florida, Inc.
Judy Thomas
Molly & Domenic Ferrante
Kathy & Greg Faulkner
Frank & Mary Pat Hussey
Dr. Joel K. Lipman
Sharon & Tim Ubben
Peña Plastic Surgery, Dr. Manuel Peña
---
GET INVOLVED
---
Questions? Contact us directly at RSVP@bgccc.com.