A Season of Thanks
From the Desk of Megan McCarthy Beauvais
Dear Friends of Boys & Girls Club of Collier County,
As we approach the holiday season, I find myself reflecting on the incredible journey we've undertaken together as a community. It's a time to celebrate not only our achievements but also the profound impact we've had on the lives of the young people we serve. Today, I want to express my heartfelt gratitude and share some of the reasons why we have so much to be thankful for.
First and foremost, I am grateful for our dedicated staff, board, and volunteers. Your unwavering commitment to our mission is the bedrock upon which our Boys & Girls Club stands. You tirelessly invest your time, energy, and love into creating a safe and nurturing environment for our children, helping them to discover their potential. Your passion and dedication inspire us all, and I thank you for the profound difference you make every day.
I am also thankful for the parents and guardians who entrust us with the care and education of their children. Your belief in our programs and your continued support means the world to us. We don't take this responsibility lightly, and we are honored to be part of the lives of these extraordinary young people.
Our supporters and donors deserve special recognition. Your generous contributions enable us to provide life-changing experiences and opportunities for the children who walk through our doors. Your investment in their future is nothing short of remarkable, and I'm deeply thankful for your belief in the Boys & Girls Club's vision.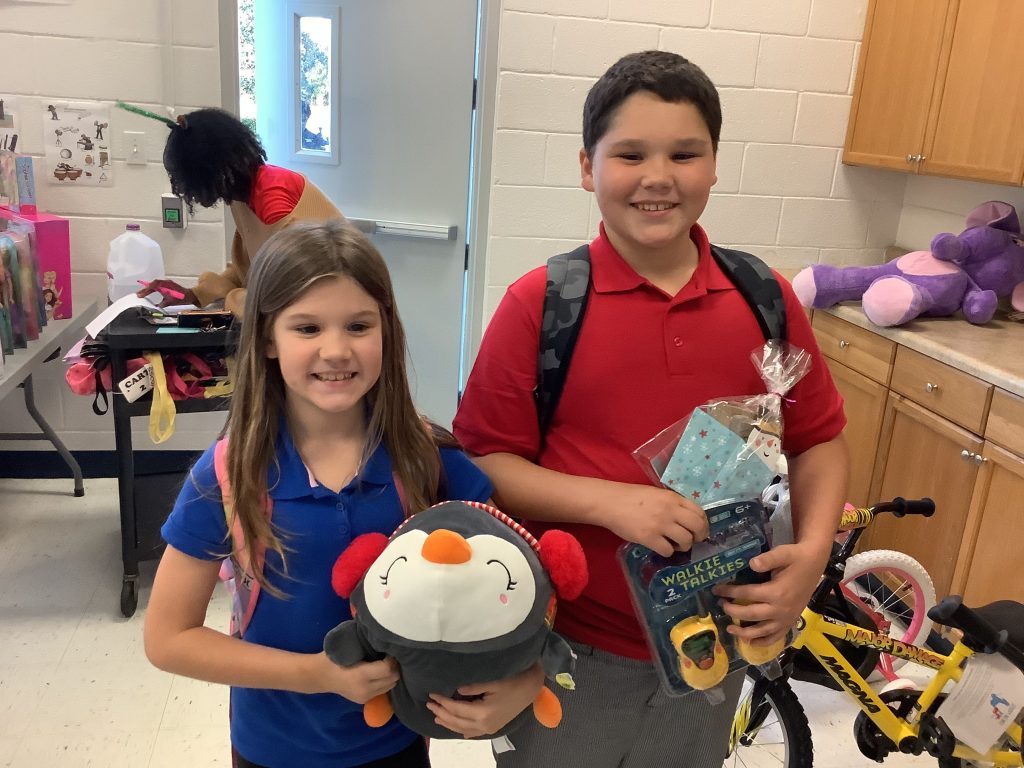 Of course, the heart and soul of our organization are the kids we serve. Every day, they remind us why we do what we do. Their smiles, dreams, and achievements are our greatest reward. To our Club members, I want to say that we are grateful for your trust and belief in the power of our programs to change lives. You inspire us to work harder, dream bigger, and be better.
As we look back on the past year, we've witnessed incredible growth and resilience within our community. We've seen children discover their passions, build lasting friendships, and develop the skills they need to succeed in life. These successes are a testament to the incredible teamwork, dedication, and support that defines the Boys & Girls Club of Collier County.
As we enter this season of gratitude, let us remember that it's not only about giving thanks but also about paying it forward. The support we receive from each of you allows us to extend a helping hand to more children in need. We invite you to join us in this season of giving, as we work together to ensure that all young people have the opportunity to develop their full potential.
Thank you, from the bottom of my heart, for being part of our Boys & Girls Club family. Together, we are making a difference, one child at a time.
With warmest wishes and gratitude,
Megan McCarthy Beauvais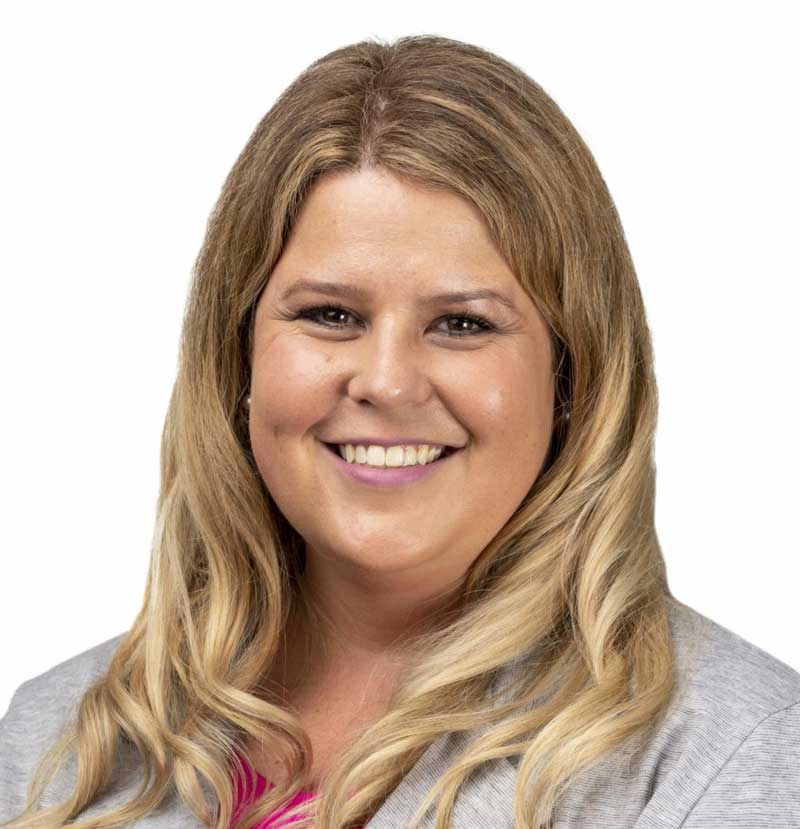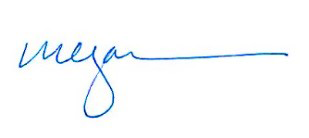 Megan McCarthy Beauvais
President & CEO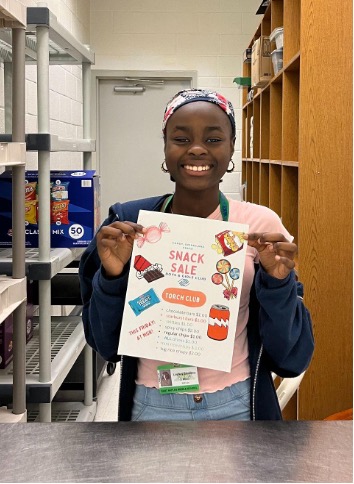 Meet Lindsay
NICHOLS Club Member
Member Since:
2017
Why Boys & Girls Club?
Lindsay, who learned about the Club from the Lely Elementary Principal, enjoys being part of the BGCA Torch Club, Teen Talk and Power Hour. Her sister also is a Club member.
Achieving & Succeeding:
Lindsay has developed confidence and poise, has become a strong public speaker and is seen as a leader, exuding confidence that is infectious and inspires others. As vice president of Torch Club, she's been the driving force behind successful marketing endeavors, resulting in over $800 in snacks and slime product sales. Lindsay's journey is a testament to the transformative power of our programs.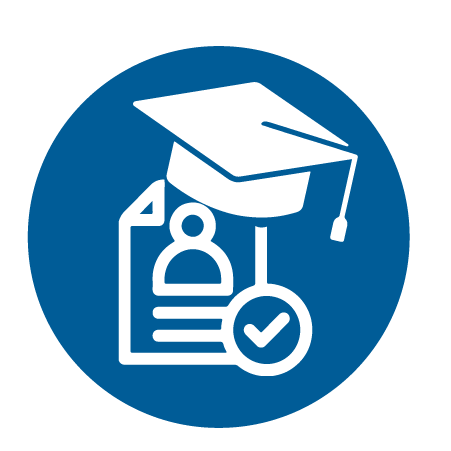 Academics
In honor of Hispanic Heritage Month, our members engaged in educational and fun celebrations. They immersed themselves in the Spanish culture through activities such as playing La Loteria and other flashcard games to acquire Spanish vocabulary. Cross-cultural connections were fostered by pairing Hispanic and non-Hispanic students to encourage discussions about their favorite foods and music. Those who had visited a Hispanic country shared their experiences. This celebration was a wonderful opportunity to promote cultural exchange and understanding.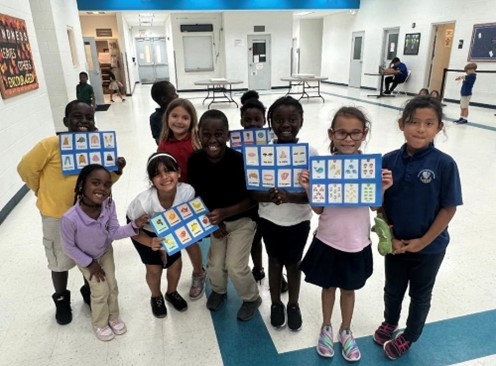 For our Power Hour activities, we've been piloting the Homework Buddies program with our older members, forming several groups. This initiative encourages them to collaborate, engage in discussions, and provide mutual support while working on their homework. The initial positive outcomes support an expansion to more groups in the near future.
Miracle students are actively boosting their fluency and comprehension skills through various center activities, including the 5th grade Book Club. During an engaging STEM event at Highlands Elementary, students created robots from recyclable materials and composed narratives about their creations. These initiatives are a demonstration of the Club's commitment to nurturing a love for learning and fostering creativity among our students.
---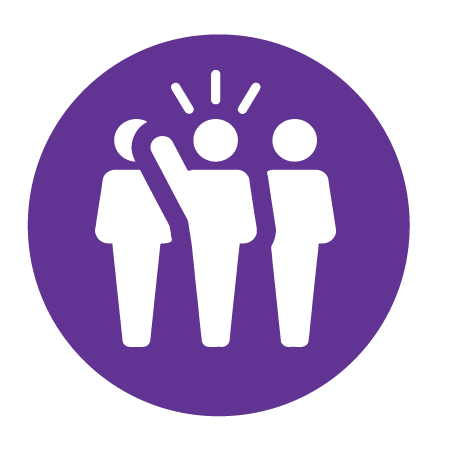 Character & Leadership Development
November marks the beginning of the next round of Junior Women of Initiative. At the mentor kickoff, mentors shared their excitement about the prospects of meeting their mentees later this month. JWOI teaches our young female members self-confidence, assertiveness, and other life skills that will help them be better people and leaders. A few mentor spots remain open. Any women with an interest in serving in this important role may reach out to Dr. Dee Philippi at hello@echoednow.com.
---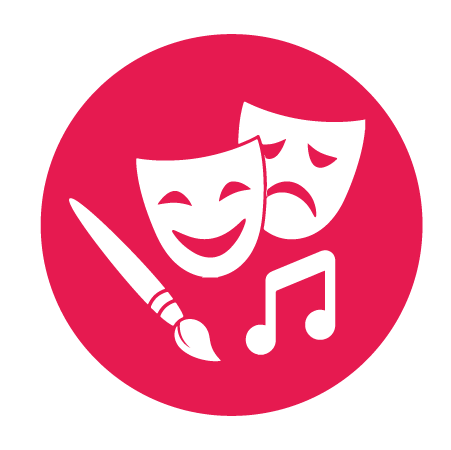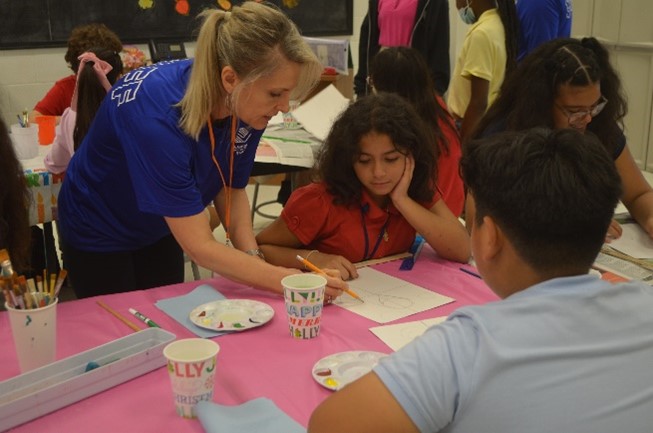 The Arts
Ms. Victoria, a new art teacher, has been encouraging our members to explore their passion for art, and to learn about different artistic properties such as color, shape and texture. Members have completed a variety of art projects including creating moving snakes and spiders, and illusion drawings of 3D hands.
---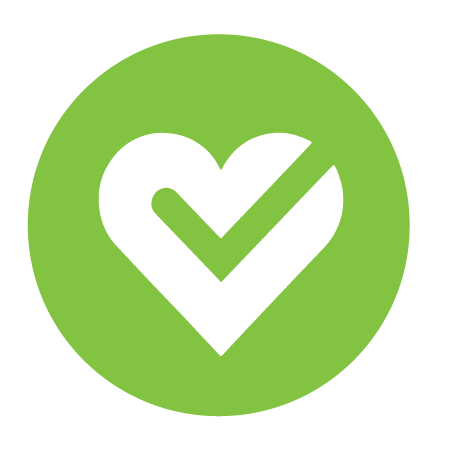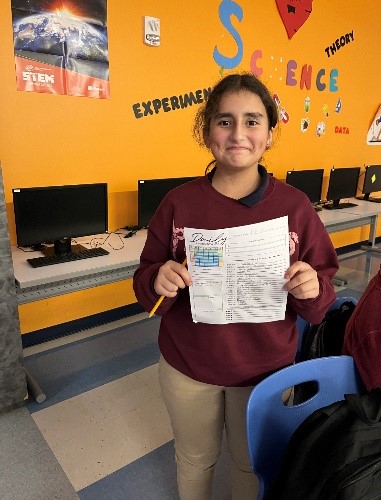 Health & Life Skills
The past month, our members learned about ways to develop healthy habits and routines. Our Youth Development professionals provided education about health benefits, including improved mood and decreased stress, that result from implementing healthy habits into your life. Members completed worksheets to describe the healthy habits they already employ and how they can start new healthy habits.
---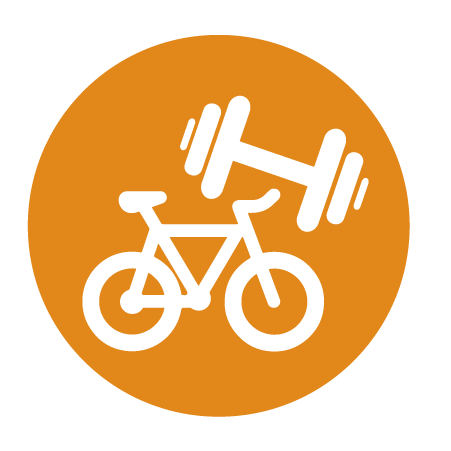 Sports, Fitness & Recreation
Last month, we kicked off our soccer sports season. Members have enjoyed learning about the sport and scrimmaging with their friends.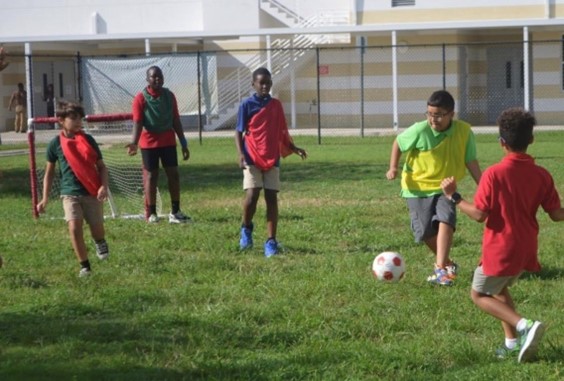 ---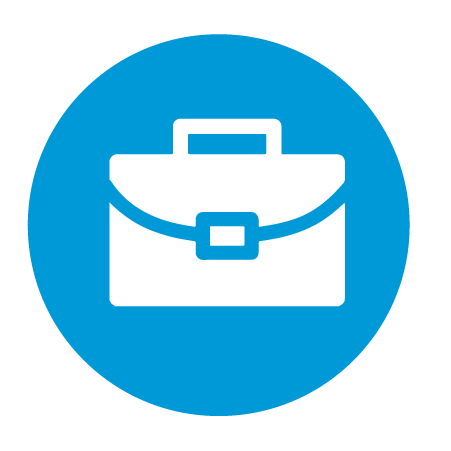 College & Career Readiness
Ricardo Lory, Founder and CEO of Chef Global's Kitchen, met with our teen members to share his culinary journey. He enlightened members about his travels to over 17 different countries to discover his culinary niche by combining global flavors with his Haitian heritage.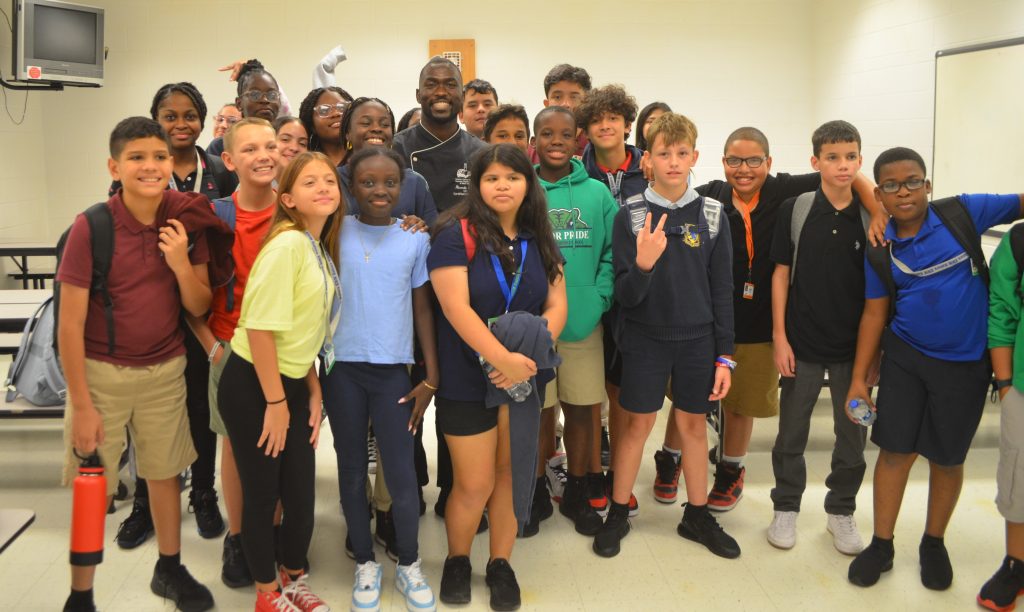 While building his brand, Ricardo served the community during COVID by selling his dishes out of his garage. Now, at only 24-years-old, he not only has two local award-winning food trucks, he also provides meal prep services to MLB and NFL players. Members learned about food costs and production, and gained insight on the drive and determination it takes to be a success in a culinary business.
Our staff continues to work diligently to line up exciting career and workforce development opportunities for members in the coming months.


---
Community Outreach Initiatives
The Collier County Community Assessment report is now available. We encourage our community partners to take time to review the assessment results. It can be found at www.SchulzeFamilyFoundation.org/CCCA. It explains our ever-changing community needs, and summarizes our population's demographics, employment and economic opportunity, education, environment, health care and mental health services, housing, infrastructure and transportation, and special populations. For anyone interested, sessions diving into the data will be held on November 13 January 16and 17. See the link for details on locations and how to register.
Thanks & Praise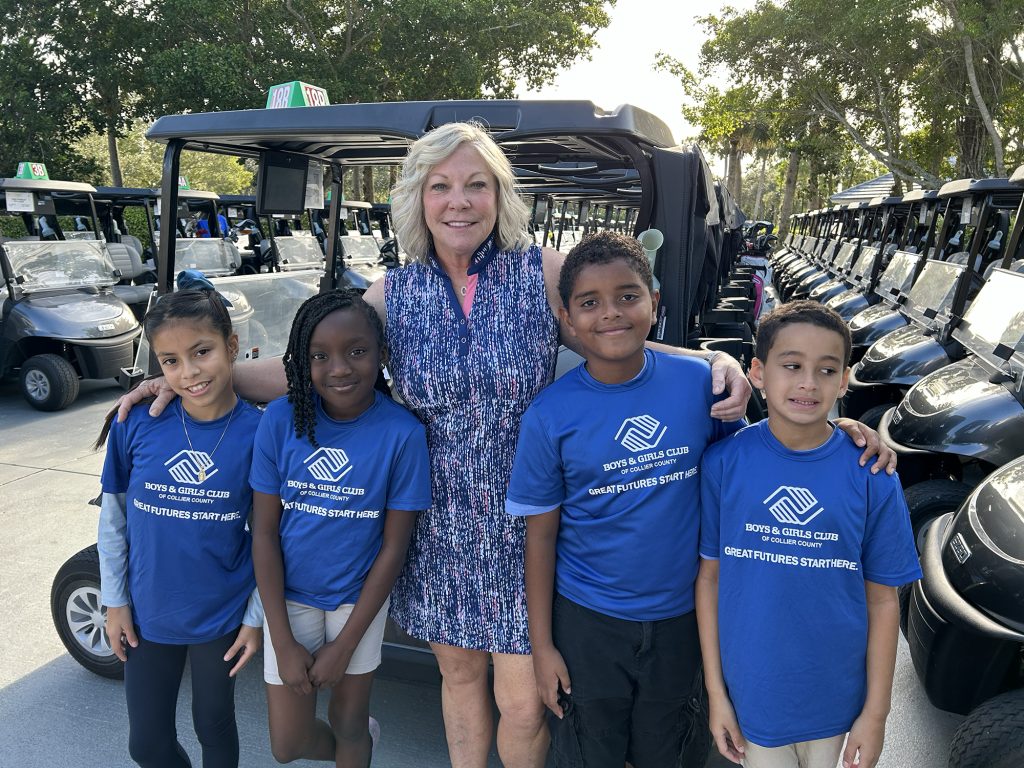 A BIG THANK YOU to the golfers, sponsors and guests who participated in Boys & Girls Club of Collier County's 20th Annual Fore-the-Kids Golf Tournament.
More than $250,000 was raised to support the Club in Naples and Immokalee, as well as the seven school-based sites in Immokalee.
Your generosity will enable us to continue providing a safe and nurturing environment where children can learn, grow, and thrive.

GL Homes and Boys & Girls Club of Collier County Holiday Drive
Join GL Homes and Boys & Girls Club of Collier County in spreading a little holiday cheer for our 6 to 18-year-old members during the holidays. Please consider hosting a drive at your office, in your community or among your friends. Use the flyer or email mroller@bgccc.com for a copy that you can affix to a box at your office or in your community.
Thank you for your support of the Boys & Girls Club during the holiday season!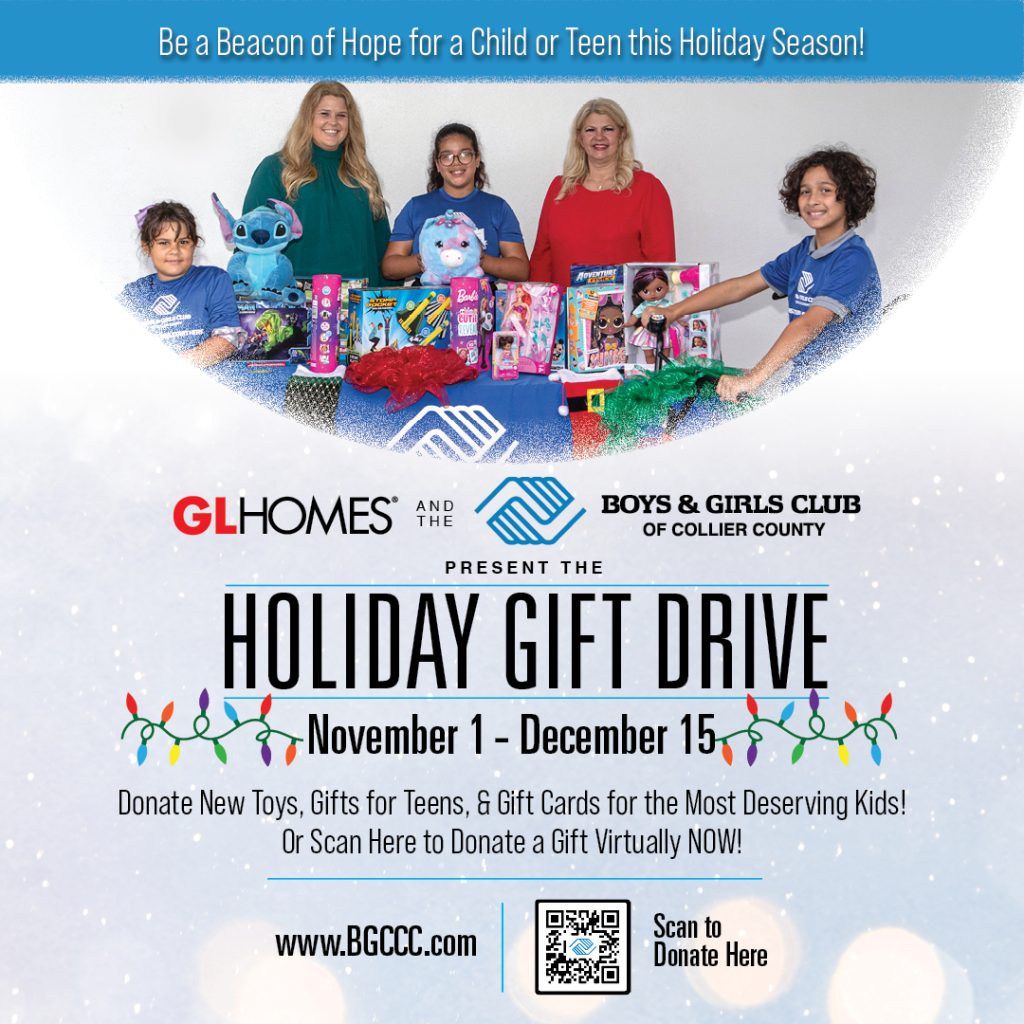 Your donation changes lives.
Please join us in ensuring that youth in our community can receive the educational support and tools they need to help them thrive academically, socially and personally. Every life changed is made possible by donations from caring individuals, like you, who believe in our mission.
Your generous gift will ensure future generations have the programs, resources and guidance to help them achieve academic success, make healthy life choices and foster the skills they need to develop their full potential.